Does the idea of working out in a group make you flashback to gym class in grade school? Whether the memories are good or not, it's time to dispel the myth that classes at the gym are like school gym class. Group Fitness and Exercise classes are more fun and more effective for reaching specific goals than gym in school ever was. Plus, you get to pick what class (or classes) you take!
Here's how to find the perfect class for your unique taste:

Top Questions for Choosing Your Best Type of Class
As you consider different types of classes to narrow down your search for the perfect group fitness experience, ask yourself:
What are my goals and will this type of workout help me reach them?
Am I comfortable being in a large group or would a small group be better?
Do I prefer a loud, fast-paced environment or a quiet, calmer one?
Is the class led by an expert?
Will this class be very predictable or mix things up (which do you prefer)?
Is any equipment required to participate in class and do I own the equipment?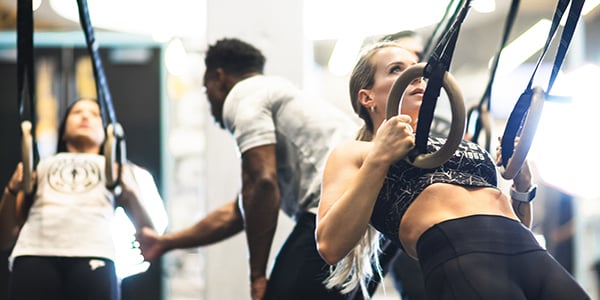 Types of Group Fitness and Exercise Classes
Now that you better understand what you're looking for, the next step to finding your perfect group fitness and exercise class is understanding the different kinds there are. Most gyms offer:
High-Intensity Interval Training (HIIT) Classes

Typically 30-50 minutes
Intense cardio workout
May involve bodyweight moves or lifting
Available for different fitness levels
Dance-based Cardio Classes

Usually 60 minutes
Upbeat, set to music
May be a very large class
Classes sometimes specified by age group
Cycling Classes

Usually 60 minutes
May be small or large
Fast-paced and based on stationary bikes
Burns a lot of calories
Strength Training Classes
Mind-Body Classes

Typically 60 minutes
Often low-impact and beginner-friendly
May be small or large
Great for stress relief and increasing flexibility
If weight loss is your goal, keep in mind that more than one type of class may work for you. Browse the top classes at Gold's Gym SoCal for more information about specific classes and what they are like.
Find a Class That Fits Your Schedule
Of course, the best fitness class for you will need to fit your schedule. Check out the class schedule at your local Gold's Gym SoCal club. Don't let fear hold you back- the benefits of group fitness are way too important to let excuses get in the way.
Confirm your ideas for which class is best for you: take our FREE Group Fitness Quiz!
Gold's Gym SoCal is an association of separate clubs—click here for info.