GGX (Gold's Group Exercise) is not your momma's group fitness class! Many gym junkies write off group fitness classes before trying them because they think they won't be challenging enough. At Gold's Gym SoCal, that couldn't be further from the truth. It may come as a surprise, but group fitness classes have come a long way to provide varied formats, intensities and RESULTS! Gold's Gym SoCal GGX features the BEST instructors, motivating music and a variety of programs - all fueled by more than 50 years of fitness innovation.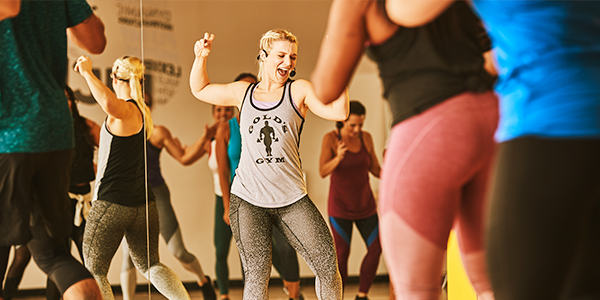 Every fitness enthusiast can benefit from a class tailored to their fitness level. If you're one of the firm believers that think group classes aren't for you, we've got some benefits that might change your mind. Here are 5 reasons to join in on the group exercise fun!
Motivation and Inspiration: Finding and keeping motivation are two difficult hurdles we have to overcome when exercising. Group fitness classes can make it easier to feel inspired and motivated by your fitness buddies. They encourage you to push through those last 10 seconds or power through that last rep. Some people may feel intimidated by the thought of working out in a group and having eyes on you while exercising. Remember: everyone started as a beginner, and you're on your fitness journey, so there is no judgment, just motivation!
Community: One of the best parts about group fitness classes is that you start to see familiar faces as the weeks progress. Sweating out a shared experience forms a bond between you and your GGX buddies. You'll find guidance and support with your fitness peers, and they can keep you going during your health and fitness journey.
Structured Workout: Show up, push yourself to be your best, and walk out feeling great. You don't need to plan out your workout, what muscle group you're targeting, or which cardio machine to use, because it's all done for you. You can take our Hardcore Abs class when you're looking to strengthen your core, Functional Fitness for lifters who want to fine-tune their muscles, or Mat Pilates to switch your focus and build flexiblity! We have a variety of classes, so you'll always be able to work on something new.
Break Up Your Normal Routine: Adding variety to your workout will help you work new muscles and jump over any fitness hurdles you've been facing. Doing a spin class or a power sculpt class is something you most likely wouldn't do on your own. In a group environment, you'll be provided all the equipment you need, as well as be able to follow along with an instructor, so you will never finish an exercise and think, "what next?"
Hold Yourself Accountable: Having a specific date and time to workout encourages you to get to the gym, and skip the excuses. Instead of sitting at home and saying 5 more minutes, you'll be running out the door to get to class on time. Maximizing your productivity and crushing your goals!
Working out with your fitness fam can encourage you to bust out a harder workout, and push yourself a little further than you would working out alone. You'll see better results in a shorter amount of time, and results are what it's all about! The community bond is an added bonus!

What are you waiting for? Give one or more of the GGX classes a try, so you can start experiencing the advantages of GGX classes for yourself!
Ready To Join?
Gold's Gym SoCal is following all of the precautions to ensure you stay safe while getting fit. Select Outdoor Playground locations are now open. Join today with no contract, plus get access to our online workout classes. We hope to see you in the gym soon!