Wrapping presents, singing carols, drinking eggnog, watching classic Christmas movies, all of these are on your holiday to-do list, but where does fitness fit in? Finding the time and energy to get to the gym during the height of the holidays can seem next to impossible, so we're here to motivate and encourage you to give yourself the gift of fitness this holiday season.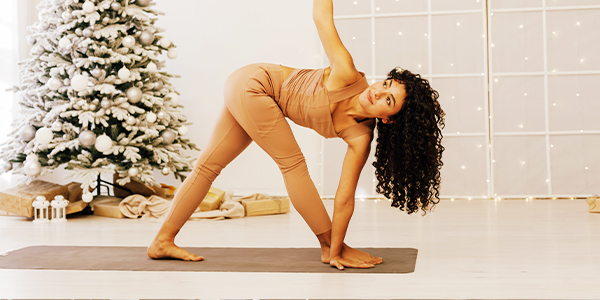 Gold's Gym SoCal has come up with a variety of ways for you to maintain your fitness routine and continue reaching your fitness goals even through the holidays.

Reward yourself. Positive reinforcement will help you continue to reach your goals. You deserve to treat yourself after reaching a fitness milestone, so do something nice for yourself. Take yourself out to lunch, buy a new outfit, or treat yourself to something that's been on your wishlist for a while. You worked hard to reach your goal! Celebrate it because you deserve it.

Set Attainable Milestones on your way to an overall goal. Some fitness and health goals are loftier than others. When you set a goal to lose over 20 + pounds it can feel unreachable. Setting attainable mini-goals or milestones on your way will enable you to celebrate the smaller victories which will fuel you along your fitness path. Examples of attainable goals would be: lose 5 lbs a month, increase your water intake, log 3 meals a day, cook a new healthy dish once a week, trying a new workout or fitness class once a month. These smaller victories will progress you towards your overall goal and encourage you to keep moving forward on your health journey.

Give a new fitness class, virtual class or workout routine a try. Doing the same routine over and over can become monotonous and boring. Switch it up and try something new! Not only will your brain thank you, but your body will too. Trying new workouts and exercises will also build new muscles, prevent overuse injuries, and break you out of a weight-loss plateau.

Join a fitness challenge. If you crave competition, and love to take on a challenge, this option is perfect for you. Joining a fitness challenge not only helps you stay motivated by competing against other people but against yourself as well. Adding a prize to the equation only makes it that much more satisfying to reach your goals!

Team up with a friend to keep each other accountable. Getting a text from your friend while you're sitting on the couch that says "let's hit the gym" is a major motivator! You've got someone else holding you to your goals while also making it more fun to work out. Find a fitness buddy to make it easier to reach your goals.

The holidays don't have to throw a grinch in your routine. Just remember to plan, indulge for a night, and not for a season, and take it day by day. You can do this, and Gold's Gym is here to help.
Download our Free 28 Days to a New You Guide to get expert fitness tips, inspiration, exercises and healthy recipes!
Ready To Join?
Gold's Gym SoCal is following all of the precautions to ensure you stay safe while getting fit. Select Outdoor Playground locations are now open. Join today with no contract, plus get access to our online workout classes. We hope to see you in the gym soon!
Gold's Gym SoCal is an association of separate clubs—click here for info.