Losing weight is hard to do. It's even harder to do it alone. Even the American Psychological Association says so. Chances are you aren't the only one in your family who could stand to shed a few pounds or live a healthier lifestyle. So start a family weight loss plan to get your loved ones working toward a common goal: living their best!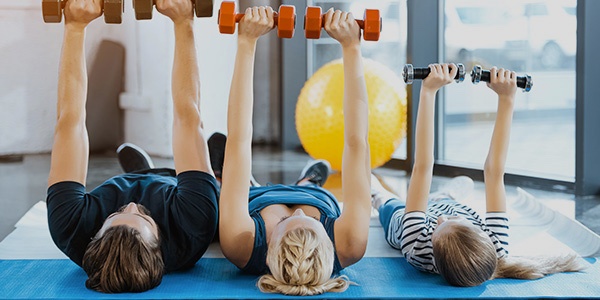 Ways to Create a Family Weight Loss Plan
Every family is unique and yours is no exception. Rather than picking a premade weight loss program and forcing your partner and kids through it, create a plan that works for everyone.
Use these tips to change your family's lifestyle for the better:
Make Cooking at Home a Family Tradition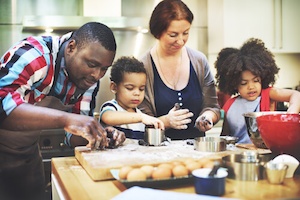 Eating out regularly isn't usually a healthy choice. Food prepared in restaurants and for takeout isn't as fresh and makes it too tempting for every family member to just pick out their own fattening favorites. To make eating in more fun, cook together.
Invite your crew to join you during meal prep. Turn on the tunes while you cook. Have the kids prepare fun menus. Opt for food-based themes to add new flavors and fun. Choose new, creative recipes to keep everyone intrigued. Whatever else you do, sit the whole family down for dinners that make together to create a warm atmosphere everyone will look forward to.
Are you looking for a quick way to reach your goals?

Find Alternatives You All Love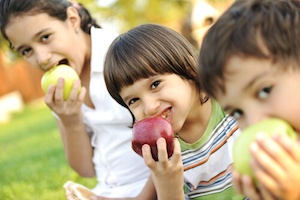 Substitution is a great way to make healthier eating a long-term lifestyle change. To get good at swapping out unhealthy ingredients for better options everyone likes you'll all need to try new things. Plan to have a "test-tasting" meal once a week.
You can also encourage your family to get creative with recipes. Instead of making traditional spaghetti, try zucchini pasta. Try spicing popcorn instead of serving up flavored (fatty!) chips. Instead of always packing celery for lunch, make mason jar salads together in a variety of flavors. As you find alternatives for popular ingredients, your whole family's diet will improve.


Agree on Some Ground Rules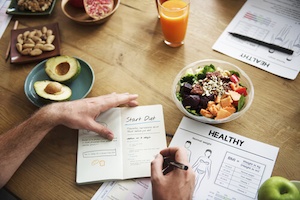 Making changes is hard for anyone to do. With your family's shared support, set ground rules to help all of you make better choices together. Agree to:
Limit junk food in the house and put it out of reach
Not offer food as incentive or reward
Only eat out once a week or less
Maintain cheat days
Agreeing to cheat days is important- and actually scientific! Options for cheating once in a while make it easier to give up favorite junks foods and offer an incentive for weight loss. Plus, cheat days can actually increase your metabolism.


Play Together on a Regular Basis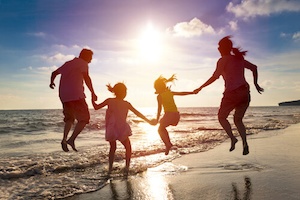 Being active is just as important for weight loss and healthy living as eating well. Fortunately, being active can also be a ton of fun! When you plan family activities, look for ways to play together.
Sign up for a sports league
Have dance parties
Play physical games together
Pick out a few favorite workout DVDs
Go for hikes or climbs
Hit the pool for a swim
Stretch together
One of the best types of workouts to turn into a game or just something you all do while you watch a movie, hang outside, prep meals, or get ready for bed is functional training. Based on motions you perform everyday anyway, functional training focuses on stretching and strengthening your muscles naturally. It's also great for shedding pounds.


Add the Gym to Your Family Fun Routine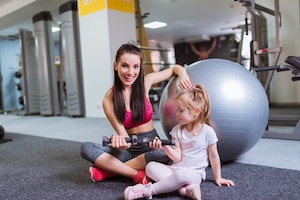 Studies show that you need to work out for about 200 minutes a week to lose weight. That breaks down to an hour or two at the gym 2 or 3 days a week. That's just the right of amount of time for a family outing.
When you plan your family schedule, pick out a few slots each week for family fun at the gym. Young kids will love the kids club. Older kids and your partner might enjoy participating in a fitness class like yoga together, swimming, watching a movie in the cardio cinema, or just working the lifting circuit with you.


Share Your Motives, Goals, and Rewards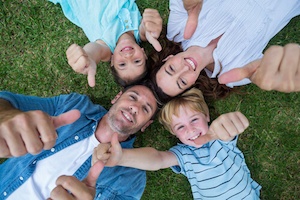 The most important part of working towards a healthier life as a family is sharing the experience. Talk about your goals and motives. Make a motivational board. Cheer each other on. Hold each other accountable. Offer rewards for successes. You'll be each other's biggest help, and that is definitely a recipe for success in weight loss.


Start with a low-intensity, relaxing family exercise regimen. Use our FREE Yoga Guide to get started.