Obviously preparing fresh food at home is ideal over eating out. The reality is that sometimes fast food is just the most practical option for a meal- and you have to eat!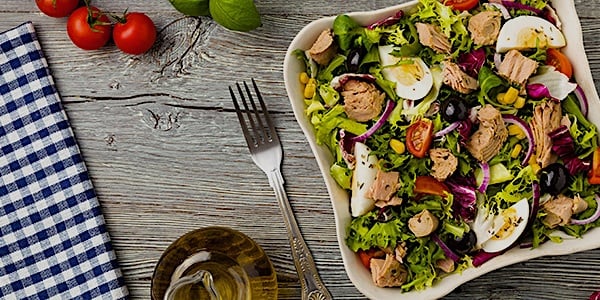 But being too busy to cook at home is no excuse for depriving your body of what it needs to build muscle and stay lean. Instead of ordering nutrient-deficient foods when you are on the go, try choosing from one of the healthiest fast food options in LA.
Discipline and training can only take you so far, but a strategic nutrition plan is what will get you to the finish line.

Top 8 Healthiest Fast Food Options in LA
We scoured some local favorites' and some popular chains' menus to find the healthiest fast food options in LA for people watching their waistline and beefing up their muscles. This is what we came up with:
#1: Taco Bell's Fresco Chicken Burrito
Mexican fare can be naturally low-carb since the wraps used are pretty thin. What makes mexican foods fattening are additives like sour cream and lots of cheese. Taco Bell's "Fresco" menu substitutes salsa in for a lower calorie, more nutritious option. We recommend the fresco chicken burrito for its high protein, low-carb content.
Use Taco Bell's website to find the location nearest you while you're out running around: tacobell.com


#2: California Chicken Café's Combo Wrap (Hold the Mayo)
Chicken with a little seasoning is great to fill up on because it's a lean protein (aka a male fitness model's secret weapon.) California Chicken Café offers fresh rotisserie chicken dishes in several varieties. The healthiest option for someone striving to build muscle is the Combo, which packs in protein (chicken) and a superfood (avocado.) Just hold the mayo.
Grab your healthy wrap at one of California Chicken Café's 8 LA locations: califchickencafe.com


#3: Sweetgreen's Mexican Corn Elote Bowl
Offering food as fresh as what you'd make at home, Sweetgreen's seasonal menu is where it's at. During the summer, we suggest the Mexican Corn Elote Bowl. Otherwise, build your own bowl out of comparable fresh veggies, greens, and the always available warm quinoa. Stick to vinaigrette for the healthiest dressing.
You can find a few Sweetgreen's scattered around LA: sweetgreen.com


#4: M Café's Macro Meal
If you can find an ingredient in this dish that isn't nutritious and ideal for fueling your body for fitness, we applaud you. M Café is a hotspot for filling up on bodybuilding macronutrients. The macro meal includes ingredients like brown rice, kale, and beans. You can add tofu or salmon for protein.
Fuel your body at M Café if you're in Melrose or Beverly Hills: xn--mcaf-epa.com


#5: Chego's Leafy T Bowl
A little flavor never hurt a healthy diet. Chego's Leafy T Bowl satisfies that craving for fried flavor and spice while providing lean protein, greens, and some grains for energy.
Swing by Chego's if you're in Chinatown or Culver City: eatchego.com


#6: Tender Green's Tuna Nicoise Salad
There are good fats and bad fats. The Omega 3 fatty acids found in albacore tuna are great for building muscle- plus albacore tuna provides lots of protein. Tender Green's Tuna Nicoise salad offers this heart-healthy fish grilled with healthy greens and vegetables.
Boasting convenient locations around LA, Tender Green's is often a convenient choice: tendergreens.com


#7: Chipotle's Burrito Bowl (with some specifics)
For a low-carb, nutrient-rich option at Chipotle, opt for the burrito bowl. Go for chicken over steak and brown rice or no rice instead of the carb-dense white variety. Skip the cheese and ask for extra guac, salsa, or veggies instead.
Find the Chipotle on your route: chipotle.com


#8: In-N-Out Protein Style Mustard-Fried Burger
So you probably don't think "healthy" when you grab a bite at In-N-Out. But if you get a double patty with no bun (or even just the bottom bun!) and opt for mustard-fried instead of the spread on top, you can call it nutritious.
We doubt you'll have trouble finding an In-N-Out, but just in case: in-n-out.com
Choose Healthy, No Excuses
Convenient and healthy don't have to be opposites. When you choose from healthy fast food options in LA, you get the best of both. Your body (and your busy schedule) will thank you.
Learn more about healthy eating for fitness: Download our free Nutrition Guide Today.