Watching your figure often requires more than just working out. To give your body what it needs to be trim, lean, and healthy, you also have to eat well. Of course, we know preparing healthy meals can be time-consuming. It can be hard to balance the time you want to spend working out with the time it takes to make healthy meals.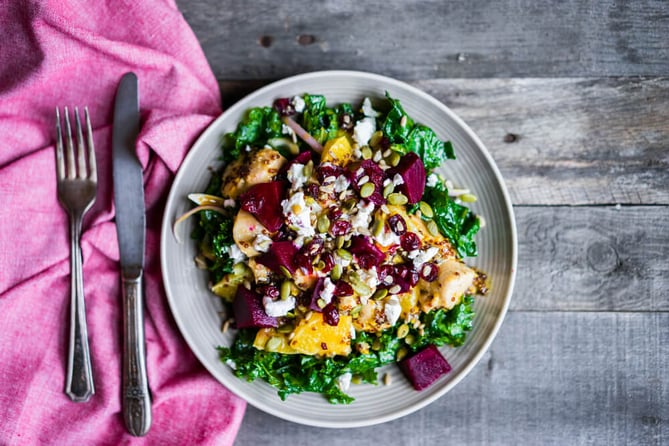 Try a meal service in LA. Many meal service programs will deliver meals to your door, saving you time. Some services provide meals according to certain diet guidelines, like vegan or Paleo diets. Receiving prepared meals that align with your dietary goals can help keep you accountable and on track.
Options for Meal Service in LA
With several meal services based in LA and many other services operating nationally, you have plenty to choose from. These 4 options for meal service in LA have their pros and cons, but they all offer you the benefit of having more time to work out without worrying about preparing healthy meals.
---
Kick your training into high gear with Nutrition.

---
Fresh n' Lean
What We Love: Given just their name, this meal service makes it mission clear. The service delivers freshly prepared foods with healthy non-GMO and gluten-free ingredients. Many meals are plant-based. Every meal is designed to make you feel full while providing your body with powerful nutrients. Fresh n Lean aims to help people live lean and healthy by delivering food directly to your doorstep.
What to Consider: If meat is a part of your fitness diet, Fresh n Lean may not offer all you desire for healthy meals as it focuses on plant-based eating. The cost of meal delivery with this service may be as low as $27.99 each day, but it can be much higher.
Paleta
What We Love: Featured on many "top meal service lists," Paleta is a favorite for many in LA. A unique quality of this service is its farm to table process. Ingredients are truly fresh and healthy, as well as environmentally friendly. Meals choices are diverse, and many include healthy snacks. You can tailor the menu to your preferences and goals. Cleanses, juices, and fitness shakes are also options through Paleta.
What to Consider: Relatively expensive, Paleta's 3-day trial plan breaks down to about $59 per day. Meals arrive in an insulated cooler before 6 am so you can still workout at the time of day that's best for you.
Chef'd
What We Love: Uniquely intended to teach you how to prep healthy meals, Chef'd provides healthily portioned ingredients and detailed instructions on preparing your own healthy meals. Saving you some time while also teaching you to eat and cook healthier, this service is a great choice for someone who needs help getting started with nutritional eating, especially for a specific diet like Paleo or Gluten-free eating.
What to Consider: Since this service requires you to do meal prep, it may not save you as much time as other services that offer fully prepared, fresh meals. You might, however, save money by prepping your own meals. Chef'd meals tend to cost between $19 and $39 but offer two servings. Save more money and time by supplementing this program with healthy snacks like fresh fruit packed in your perfect gym bag.
Fitness Kitchen LA
What We Love: Just like having a personal trainer can make a huge difference in getting fit, having a nutritionist's input on your diet can transform your health. Fitness Kitchen LA offers nutritionist-designed meals to meet your body's needs and improve your diet. The service offers diverse meals and tailors them to your preferred diet using fresh, locally sourced ingredients.
What to Consider: A pricier meal service, Fitness Kitchen LA provides basic meals for $55 per day. The service offers 3-6 week programs as well as regular delivery to help you with diet goals.
BONUS:
Muscle Up Meals - a Meal Service by one of our very own members and challenge winners!
What We Love: The fact that the founder of this meal prep service, Adam Karapetyan, lost over 200 pounds and won 1st place at the Golds Gym Challenge 2017 as a result of excellent nutrition. His journey proves the combination of his new Muscle Up Meals nutrition formula and healthy lifestyle actually delivers results, and is indeed impressive. All the meals being deliciously prepared, using fresh, never frozen all natural ingredients, by first class celebrity chefs to provide you with a delightful gourmet dining experience while still being on a diet. Many of meals such as the Chicken Chili Verde, are the Chef's family recipes, which for hundreds of years have been handed down from generation to generation. These unique dishes provide a delectable experience which can be enjoyed no where else. In addition, all of the nutrients are precisely counted, weighed and measured to meet the exact portions needed to maximize the effectiveness of your workout. You receive perfect balance of green veggies, protein and carbs to guarantee you receive the nutrition needed to achieve your fitness goals.
What To Consider: Delivering to the major L.A. areas, this is a moderately priced, healthy, gourmet meal service with most dishes averaging between $12 to $15. However, premium meals are also available such as Chilean Sea Bass , Monk Fish and Ribeye which range between $20 to $30. Since meals are delivered fresh and never frozen, it's recommended they be refrigerated properly and eaten within within 5 days. Fish should be consumed within 3 days to preserve maximum freshness. Specialty meals including, Vegan, Ketogenic Diet, Diabetic and Weight Loss specific may be ordered upon request.
Choosing your LA Meal Service
There are many other LA meal services besides these. Do your homework to find out what's best for you. Your perfect meal service pairing will help you save time so you can spend it where you really want to: at the gym.