Whether you're hitting the beach or the mountains, visiting family, or just going on a quick weekend getaway, we've got all the tips you need to stay fit on vacation.
It's so easy to get out of your usual routine when traveling, and it's normal to take a break, but it's good to stay active, or else it'll feel 10x harder to return to the gym after your nice relaxing vacay. The weights will feel heavier, the cardio will feel longer, and you'll be checking the clock every 5 minutes.
That doesn't mean you have to go searching for your hotel's gym. There are fun ways to stay active while you're away!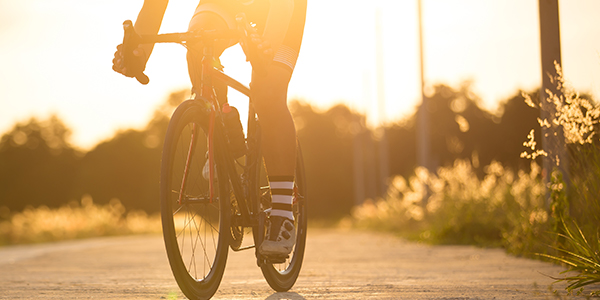 Rent bikes: what better way to see the town than renting bikes or scooters and zipping around? You get to work out while seeing the sights and making fun memories with your family and friends.
Opt to walk instead of Ubering. If it's within walking distance, try skipping the Uber and instead walk to your destination. Leave early for your dinner reservations one night and walk there or walk home. These are great ways to stay active and work up an appetite for all the delicious food you'll be eating!
Go for a swim. Are you heading to warmer weather or a tropical island? Take a dip in the pool or beach and go for a swim! Swimming laps and treading water is great for cardio and strengthening your muscles. It's also easier on the joints!
Try a bodyweight workout in the room. When in doubt, sweat it out in your room! If you know you'll be lounging by the pool or beach most of the day with little to no activity, try and either use your hotel gym or do a quick bodyweight workout.
Take a hike. Check out local hiking trails wherever you visit. Hike to a waterfall, or find a scenic trail, bring lunch, and have a picnic. There's no better way to enjoy a vacation than getting off the beaten path and exploring something new!
Beach sports and activities: Heading to a beach for this vacation? Bring a volleyball, spikeball, frisbee, football, or anything that can get you and your friends running around and having fun. You won't even feel like you're working out because you'll be too focused on having fun!
These are just a few of the ways to stay active while you're away from Gold's Gym SoCal. For more inspiration and tips on how to stay fit on vacation and log your workouts, check out our free downloadable workout workbook. It's filled with workouts, health tips, and more to help you reach your goals from anywhere!
Gold's Gym SoCal is an association of separate clubs—click here for info.