Meet Chakira Bonilla
Chakira is a Los Angeles native who loves to get her Zumba classes pumping with fun routines and exhilarating music!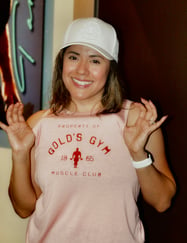 Not only has she helped tons of our members reach their fitness goals, she is inspired daily by those who she teaches. It's clear to see that not only is she an excellent instructor, but she is a favorite teacher among many!
When Chakira is not killing it in the fitness world, she loves spending time working out with her husband, as well as spending time with her sisters and with her 7-year old niece and listening to music. We're so glad that Chakira is an instructor at Gold's Gym Glendale and appreciate her working with us!
Fun Facts About Chakira
What class do you teach?
Zumba Fitness
Why do you love what you do?
Zumba fitness introduces me to variety and culture. I love that! It also challenges me and I'm able to help change lives while meeting some of the most amazing, like-minded people.
What is something no one knows about you?
When I was about 10 years old, I would gather up with all my neighbor friends, and create dance routines to some of our favorite Madonna 80's songs. I would lead them in our birthday parties and present them to our parents in the end. It's when I realized as an adult that it was something I most definitely wanted to do, and here I am today 😊
What is your goal with members?
I want members to know that exercise can be fun. I also want them to feel a part of our GGX family, so they look forward to their next workout.
How do you motivate people who hit a fitness plateau?
I lead by example by training smarter and not harder, and giving fitness an influx of fun. Grab a fitness buddy! Don't have one? You'll always meet them at the gym!
Do you have any hidden talents?
I know its silly, but I can twirl my tongue upside down lol
If you weren't an instructor, what job would you like and why?
I'd want Ron's job, our Group X Director lol. Helping others is one of my favorite things to do!
Have you worked with notable people?
I work for Craig Susser, owner of Craig's Hollywood celeb hotspot restaurant - Craig's Vegan. 💪
What is your favorite healthy/cheat meal?
I enjoy a good hearty spinach salad with chickpeas and loads of avocado. My cheat meal is a meatless burrito and always a side of ice cream.
---
Thanks for telling us about yourself, Chakira. We loved learning more about you! Don't forget to check out one of Chakira's Zumba classes at Gold's Gym Glendale. For a preview of our most popular classes click here.
Not a member yet and want to try our classes for FREE? Get our FREE 7-day NO OBLIGATION pass!
---
Keeping a healthy mind as well as a healthy body! We here at Gold's Gym prefer our members to be well balanced. Practicing yoga can help to keep you at peace while kicking butt in our classes!
To start experiencing the advantages of yoga, we recommend practicing with the help of an instructor or guidebook. Begin your journey with our FREE 21 Day Yoga Guide.
Gold's Gym SoCal is an association of separate clubs—click here for info.