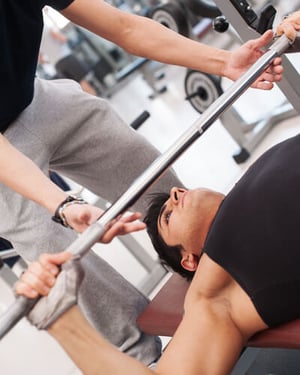 When's the last time you felt on top of the world after a workout? Are you regularly seeing progressive changes in your body, or has the number on the scale stayed the same? If your gym time feels like a part-time job and you still aren't losing weight or making gains, you're not making the best use of your time. And since you already have enough to balance between work, home, and other responsibilities, your workouts need to be right on target!
Whatever your particular goals are, personal trainers are there to give you guidance and structure, help with goal-specific training, and they won't let you get away with lingering too long in between sets. Personal trainers are masters of accountability, workout efficiency, and knowledge on all things health and wellness.


Hitting the gym but not seeing the results you want?

So, once you've made the decision to hire a personal trainer, it's now time to sort out which one is right for you. Start thinking about your goals, what you need help with, and what you want to know before hiring a trainer. Before making the commitment, ask your prospective personal trainers in LA, these four important questions:
Are you certified? And if so, where from?
A great place to start when looking for a personal trainer is at your current gym. Most gyms require both a personal trainer certification and a CPR certification in order to be hired. However, if you're inquiring elsewhere, be sure to ask about their educational background and certification status.
In both situations, it's smart to also ask where they received their certifications from. It can be an excellent indicator of what areas they specialize in and how far their knowledge base goes. Your prospective trainer may have an undergraduate and/or graduate degree in sports medicine, kinesiology, or exercise physiology. NASM, ACSM, and ACE Fitness are also all well-known certification programs that cover many areas of fitness including everything from weight loss to sports-specific training. While these do not require a formal degree, they are still credited. Any or more of the above is what you'd be looking for in the background of a fitness professional.
Where do you train and what are your hours?
When you start looking for a personal trainer in LA, ask them questions on logistics. But first, where is it most convenient for you to train, and at what times? If at all possible, try to keep a consistent schedule week-to-week to ensure your workouts are regular and that the time slots you want will be reserved just for you. If you are inquiring at the gym, make sure that your trainer is available on the days and times you request. If you're inquiring elsewhere, ask the trainer where they train and ask yourself if that's a convenient location for you. Also, does the trainer offer in-home training? Once you decide where it's most convenient to train and when, you can see if you and the trainer would be a great match.
What are your specific areas of expertise?
While most trainers are knowledgeable in more than one area, you don't want to necessarily train with a bodybuilding pro if you need HIIT. If you're into athletic training, look into hiring a sports coach, or a strength and conditioning trainer. If you just want to lose weight and feel more energy, ask the trainers at your gym or in your area, what their weight loss success rates are. Interviewing and getting to know trainers is important so that you can make sure his/her skillset works with your particular goals.
What are your prices?
Maybe you've found a trainer that is exactly what you're looking for, but you're afraid you can't afford it. First, ask if they offer a complimentary consultation so you can see what your baseline is, what their program might entail, and if you can picture yourself reaching goals with this person.
Then, be direct in asking what their rates are and communicate with them what your budget is. Most trainers, especially at gyms, will offer you a tier of rates that lower in price with every session, the more you buy at one time. Know that what you're paying for is an investment towards your health and finally seeing the results you've been looking for!


Probably the best advice for working out with a personal trainer in LA is that you can never ask too many questions. You are working with the trainer in a team effort towards getting places you may not have been able to go on your own. Take a hand by working with a trainer and show yourself what you're made of!

For more information on getting started, ask a Gold's Gym personal trainer on how to get started!