Meet Travis Cheek
Travis Cheek is one of our amazing cycle instructors and mentors. Travis started his own weight-loss journey a few years ago and never looked back! He realized he was 80 pounds over his preferred weight limit, took responsibility and is now working to help transform our Gold's Gym Simi Valley and Thousand Oaks members every day.
Outside of the gym, Travis is a licensed contractor and sells real estate. He loves relaxing with his friends and family and traveling to amazing destinations. He also enjoys participating in marathons, going dirt bike riding and participating in Spartan races.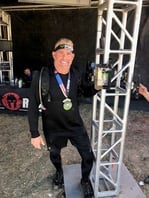 We are so happy that Travis is on our team. Get to know him more!
Facts About Travis
What do you love most about Gold's Gym?
I love the people. Gold's Gym has played a major role in my transformation! From the front desk to the cleaning crew, everyone has been such a huge help.
What classes do you instruct?
I teach Spin class at Gold's Gym Thousand Oaks and Gold's Gym Simi Valley.
What do your students get out of taking your class?
Motivation and a high energy cardio workout with great music and fun people.
What advice would you give to new members?
Never give up! Starting something new has its challenges, but with big challenges comes amazing rewards.
What is your favorite vacation destination so far?
My wife and I took a trip to the bottom of Grand Canyon where we camped for two nights and then hiked out. It was an amazing once in a lifetime trip.
Any last words for our readers?
When you find yourself looking for a high energy cardio workout, stop by Gold's Gym and take my spin class!
---
Thanks for telling us about yourself, Travis. We loved learning more about you! Don't forget to check out Travis' Spin classes! Try a FREE 7 Day Pass to get your workout started!
---
Motivational sources are all around you! You can get in fast workouts that you can feel anywhere. Check out our 30 Min High Impact Workouts guide below for more information on getting shredded in less time! These workouts are curated to specifically help you hit your goals and make your meeting at the same time! Click below to download the free workout plan.
Gold's Gym SoCal is an association of separate clubs—click here for info.