Meet Kaissa Huaca
Kaissa Huaca is a Southern California native from Rancho Cucamonga who loves to teach a variety of classes, from Zumba to BodyFlow!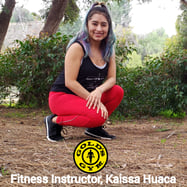 Kaissa enjoys teaching because she gets to share her love of dance and healthy living with her students. Kaissa has been vegan for 5 years and assists with nutritional tips for her students to get the most out of their workouts!
When Kaissa is not killing it in the fitness world, she prefers to sleep and meditate to reset her mind. We're so glad that Kaissa is an instructor at Gold's Gym West Covina and appreciate her sharing with us!
Fun Facts About Kaissa
What class do you teach?
I teach Zumba, BodyCombat, BodyPump, Abs Blast, and very soon I'll add on to BodyFlow.
Why do you love what you do?
A great opportunity to share with others one of my talent and it's dance. Finally, to let myself shine with my students and sharing my passion, talent, and the ideas I create. My moment to let it out and no one is here to judge and share who I am.
What is something no one knows about you?
Nobody knows that I'm vegan. I've been vegan for 5 years and such an amazing transition.
How do you motivate people who hit a fitness plateau?
Choice of music and sharing words of wisdom. For example, as you listen to the lyrics gives a reflection or a reminder, "Why you're here." There are times we tempt to forget and just know your being schedule to go to the gym but what's the reason. Then once you get that "A-ha" moment and seeing your instructor's smile give the courage to continue on little by little like as a flower blooms.
Do you have any hidden talents?
Yes, and the answer is dance. I've been dancing around four or five years old thanks to my friends who knew dance would be part of my life as when I grow. I started with break dance, hip-hop, pop, ballet, jazz, waltz, and etc. Now, I'm a Zumba instructor and introducing the style I grew up with and pass it to you.
If you weren't an instructor, what job would you like and why?
I would choice to be a Dance teacher because its somewhat relate but differences is we get to teach the proper way and starting of with basic steps. This is part of my goal to see my students flow out of the stage and still is a dream that I want to be a dance teacher. Since I was little girl I always wanted to be a dancer, but I never did because I had a trauma head injury from a car accident and held me back from life, school, and work. As of 2020, my track goal is to return back to school and major dance, which is my hidden secret.
Have you worked with notable people?
Yes, I have worked with Shane Sparks, judges from So You Think You Can Dance. He is the reason I'm continuing as a career of a dancer because he believes I got the skills and wants me to put myself out there is why I continue by starting of as a Zumba instructor.
What is your favorite healthy/cheat meal?
Lasagna and as long is plant-based I'll take it because I'm vegan.
---
Thanks for telling us about yourself, Kaissa. We loved learning more about you! Don't forget to check out one of Kaissa's Zumba classes at Gold's Gym West Covina. For a preview of our most popular classes click here.
Not a member yet and want to try our classes for FREE? Get our FREE 7-day NO OBLIGATION pass!
---
Keeping a healthy mind as well as a healthy body! We here at Gold's Gym prefer our members to be well balanced. Practicing yoga can help to keep you at peace while kicking butt in our classes!
To start experiencing the advantages of yoga, we recommend practicing with the help of an instructor or guidebook. Begin your journey with our FREE 21 Day Yoga Guide.
Gold's Gym SoCal is an association of separate clubs—click here for info.