Meet Alex Lopez
Alex is a mother of three and kicking butt as one of our top group exercise instructors at the same time! You catch her teaching BODYSTEP, BODYCOMBAT, BODYPUMP, Yoga, Cycle and PIYO at Gold's Gym Fullerton!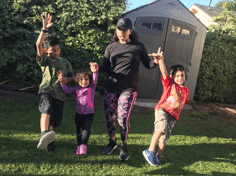 Not only has she helped tons of our members reach their fitness goals, she is inspired daily by those who she teaches. It's clear to see that not only is she an excellent instructor, but she is a favorite teacher among many!
When Alex is not killing it in the fitness world, she loves spending time with her children and listening to music. We're so glad that Alex is an instructor at Gold's Gym Fullerton and appreciate her working with us! Check out her interview below.
Fun Facts About Alex
Why do you love Gold's Gym?
It's clean, professional and we offer classes that I love to teach.
What is your specialty?
I love giving members an amazing workout experience every time they walk into one of my GGX classes.
What is your goal with members?
I want members to know that exercise can be fun. I also want them to feel part of our GGX family so they look forward to their next workout.
What should members expect from your class?
They can expect to get sweaty and have fun!
What is you biggest advice for a Gold's Gym newcomer?
Just to go for it and try one of my classes!
What is your favorite class?
My favorite class is BODYCOMBAT.
What song gets you the most pumped for a workout?
"Blade" gets me pumped up every time.
What is your favorite workout attire?
A hat.
What is your favorite home cooked meal?
My famous homemade kale salad.
What is your favorite cheat meal?
I love anything chocolate.
What is something not many people know about you?
I'm extremely shy outside of my classes.
What is your perfect off day?
Being in my PJ's doing absolutely nothing.
What do you always do before bed?
I like to "window shop" online.
---
Thanks for telling us about yourself, Alex. We loved learning more about you! Don't forget to check out one of Alex's classes at Gold's Gym Fullerton. For a preview of our most popular classes click here.
Not a member yet and want to try our classes for FREE? Get our FREE 7-day NO OBLIGATION pass!
---
Keeping a healthy mind as well as a healthy body! We here at Gold's Gym prefer our members to be well balanced. Practicing yoga can help to keep you at peace while kicking butt in our classes!
To start experiencing the advantages of yoga, we recommend practicing with the help of an instructor or guidebook. Begin your journey with our FREE 21 Day Yoga Guide.
Gold's Gym SoCal is an association of separate clubs—click here for info.