November has arrived, which means we're just a few weeks away from the holiday whirlwind between Thanksgiving and New Year's Day. There are gifts to buy, decorations to hang, meals to make, trips to take, parties to attend and people to see. While the holidays connect us with family and friends, the time between putting the turkey in the oven and waking up in the new year can also feel like a marathon-long sprint that could get in the way of your actual sprints.
As hectic as this time of year may be, staying active is still worth the time and effort. Working out boosts energy levels, promotes relaxation and improves mood, so it pairs perfectly with some of the splurges and stress that come with holiday errands, gatherings and end-of-the-year deadlines.
SCHEDULE YOUR WORKOUTS (BUT BE FLEXIBLE)
If you're putting holiday errands and events on your calendar, do the same with your workouts. It makes them as important as all your other commitments and you'll be able to physically see how they fit in with all your other activities. That said, be flexible. Plans will change, so if you have to miss a workout but end up with extra time in another part of your day or week, use it to bust out a sweat sesh. A schedule is nice, but the all-or-nothing approach makes it easier to drop your routine when the holiday spree gets in the way.
GET MOVING IN THE MORNING
Odds are most of your holiday errands and events are taking place in the evening, so there's no way they can derail your workouts if you do them in the morning. Stick to your goals and set the tone for the rest of the day by making exercise the first thing you check off your to-do list after you wake up.
KEEP IT SHORT
Don't let yourself off the hook on days when you can't fit in a 45 or 60 minute workout. You can still reap plenty of benefits from much shorter sessions. When you're short on time, opt for a high intensity interval training workout that will keep your body working hard to restore itself for hours afterward. Bottomline: a quick workout is better than no workout.
BRING YOUR WORKOUT WITH YOU
If your holiday plans involve traveling, pack your workout gear along with the presents. Bring portable exercise tools or book a hotel with a gym. If you have a Gold's Gym membership that includes a travel pass, you can also hit up the hundreds of other Gold's Gym locations across the country. Want to upgrade your membership to include the travel pass? Talk to one of our staff next time you stop in. Not a member yet? Join here. Want to try us first? Get a free 7 day pass here.
MOVE WITH THE FAM
Make moving part of your family tradition. After the eats and treats, head out for a stroll before settling in for the evening or sign up as a group for a charity walk or turkey trot. There are no "it's too cold" excuses for either in southern California.
EAT BEFORE THE PARTY
You have a lot more control over the healthiness of a meal you can make yourself than the food options at a party. We're not talking about sit-down family holiday dinners here, so this tip applies to events with trays of snacks. Showing up at an event full could keep you from overindulging.
AND DON'T SKIP MEALS
Skipping meals earlier in the day to make up for the holiday foods you're planning to eat later might sound like a good idea, but it's more likely that you'll end up eating a lot of food to make up for your lack of nourishment. It can also cause blood sugar crashes that leave you feeling sluggish, stressed and grumpy, so eat regularly throughout the day. And if you're planning to spend several hours running holiday errands, bring healthy snacks, so you're not fueling up on fast foods.
DRINK IN MODERATION & STAY HYDRATED
Alcohol is an inevitable part of the holidays, which means alcohol calories are too, especially when those dazzling holiday-themed cocktails come into play. Consider setting a limit on how much you plan to consume before you get to a party or event. You should plan how much water you're drinking, too. It helps with physical performance, energy levels, brain function, digestion and weight loss, and could prevent a hangover.
ADD HEALTHY TO YOUR FEASTS
We're not talking about the whole holiday feast, but throw a few healthier recipes on the table among the not-so-healthy ones to balance it out. If you're hosting and other guests are contributing, provide ideas or let your guests make their dish while you deliver the healthy grub. If you're the one with the dinner invite, bring your healthy dish to add to the holiday table! You can find some healthy holiday recipe inspiration here.
FOCUS ON MAINTENANCE OVER IMPROVEMENT
Our last piece of advice: give yourself some grace. The holidays don't make it easy to fit in every workout or eat healthy at every meal, so don't let a lack of progress ruin your festivities. Instead, focus on maintaining the fitness you already have and leave the gains for the start of the new year.
---
WE WANT TO HELP KEEP YOU FUELED DURING THE HOLIDAYS
Our Juices, Tonics and Other Healthy Drinks recipe guide includes all the inside info you need to get started juicing in the healthiest way possible. Plus, bonus tips that teach you how to become your own juice master—no recipe required!
The idea behind juicing is to start with fresh fruits and vegetables, remove the solids and fiber, then consume the juice as quickly as possible while it's still fresh. This turns the tables on the processed diet we commonly consume and concentrates your meal into a vitamin-and-mineral supercharged drink that packs a healthy punch, minus all the extra nonsense.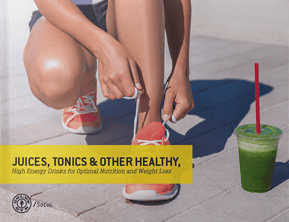 Your juice recipe guide includes:
How to know if juicing is right for you?

Key ingredients & supplies to have on hand

Some healthy recipes to get you started

How to design your own recipes - good for what ails you!